Welcome to Selena Wiki
Selena Quintanilla Perez was the Queen of Tejano Music, also nicknamed "Mexican Madonna" and "Reina Del Tex Mex" and an iconic Mexican-American pop star.
Selena Wiki is an online encyclopedia, created by fans, for fans, and we're dedicated to documenting everything about Selena and her music. Ready to help document the amazing life and work of Selena? Sign up for a free account and start editing today!
2020 Netflix Series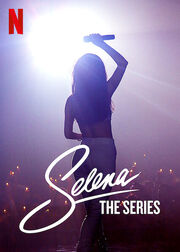 The docuseries follows the story of the Tejano singer Selena Quintanilla, from her childhood to her rise to fame, along with the difficult and heartbreaking tough choices she and her family make to hold on to love and music.
Selena: The Series premiered on Netflix on December 4, 2020. Part 2 of the series premiered on May 4, 2021.

People
Music
Remember

When writing articles here:

Please do not write articles about yourself or anyone else that is outside of this scope
Please do not write sentences that are biased, please write articles in a professional way
If you need help with copy-editing or just need critical feedback, please nominate any article up for a peer review
Please explain your changes with a edit summary, so other people won't think you are vandalizing any article
Please do not vandalize any article. If you feel that the article does not belong here, please nominate it for

deletion

Also please be a friendly person. Do not engage in hostile manners with one another, simply notify an admin if you feel attacked in anyway.
Remember to assume good faith, do not automatically believe someone is adding wrongful information. That's where talk pages are for; to discuss and reach consensus.
One more thing, this is a community website. Please be helpful and be kind to one another
Discussions
Join the community Discussion!
Social media